Never was a more valid question posed, by a film-character in the history of Western Cinema.
I'm hoping to play croquet this weekend and so, style inspiration is needed. Now, one could always go all Alice In Wonderland, but because of my irrational love of hedgehogs, I think I'll opt for something a little more
"Heathers"
(also, bizarrely known as Lethal Attraction).
It is truly fascinating that, not too long ago (honestly kids 20 years ain't nothin'), there was a time in America, when a teen movie like this could be made. Murder, mayhem, blowing up stuff, and it's a comedy. I mean,
Elephant
and
Juno
, are all fine and good, but
honest
to blog
, this movie has it all. Including some of the most awesome and/or awful late 80s fashion. Shoulder-pads: God bless us, everyone.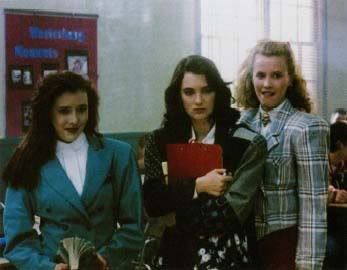 I think this movie may have been where my irrational obsession with murderous psychopaths begun. Unfortunately, they don't appear to have much in common with Christian Slater in real life. Darn you Hollywood.


Ps. Remember when
Winona Ryder
was the coolest person alive? What happened Winona, where did it all go so wrong?!!!!? (I mean I know WHAT happened, but still.)
Also: were movie trailers, as well as our attention spans, longer in the days of yore?